Home
Welcome to the Grand Junction Geological Society!
---
We are a Society of Earth Scientists interested in the natural resources, and geology of the region surrounding Grand Junction, Colorado.
We meet once a month for an evening meeting during the months of September through May. This meeting features an invited speaker. We meet at 7:30 PM at the Saccommanno Room of the Science Building (Wubben Hall) on the Colorado Mesa University campus.
We conduct field trips on an ad hoc basis throughout the year and enjoy the comaraderie and diverse expertise of our members. We encourage membership and participation of all geologists from students to seasoned professionals, and we welcome all interested parties to our meetings.
Upcoming Events:
AIPG June Field Trip, AIPG will lead a field trip to Ouray Area. Includes Surficial and Stream Runoff Issues and Historic Mining Tour. Click here for Trip Details and Itinerary. Will be held June 26-27, 2015.
No Meetings for Summer. Stay Tuned for More Field Trips and Next Fall's Technical Program
Special Announcements:
Winners of 2015 GJGS foundation summer field camp scholarships:
In photo below: Barbara Allen, Micheal Brink, Alexandra Price (Ed Baltzer, GJGS prez standing in for Alexandra), Tyanna Eaton, Jim Gerken.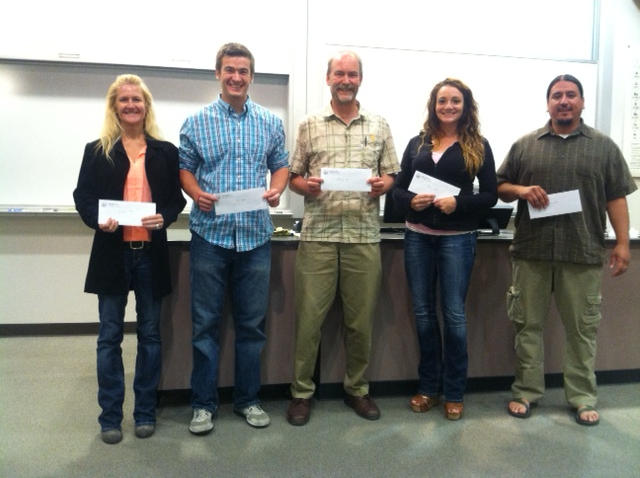 Winners of 2015 GJGS Student Poster Symposium

Winners of the Student Poster Symposium, held Wednesday, April 29, 2015, are:
1st Place: Dakota Lindsey
2nd Place: Doug Nichols
3rd Place: Thomas Spain
Congratulations to all the participants on a very good technical show.